ENGLISH
Ladies and Gentlemen, POISK Science and Production Association is happy to welcome you at our website!
The main scope of our organization's activities covers development, manufacture and sale of echolocation ultrasonic well-logging instruments designed for determination of well geometry, as well as environmental geological monitoring of underground chambers with the Scanner-2000 well-logging instrument. Fast and accurate identification of dimensions, shape and spatial arrangement of underground dissolution chambers determines efficiency of managing the salt production process and rational use of mineral resources. The SCANNER-2000 well-logging instrument is meant for determining dimensions and shape of chambers forming at borehole salt recovery. The instrument's operating principle is ultrasonic location.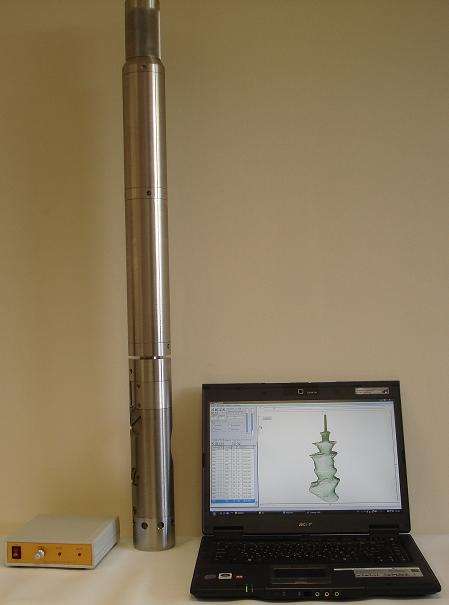 Scanner-2000 ultrasonic complex
Key technical specifications:
1.
1. Maximum measured distance obtained through ultrasonic location in the
mud (radius),
min (bottom)

120 m
60m
2.
Minimum measured distance (by conditional radius)
0.3m
3.
3. Distance measurement error (for ground check),
Max
at distance up to 5 m, max

±2 %
0.1m
4.
Azimuth angle error as referenced by the geomagnetic field, max
±2,5
5.
Permissible external hydrostatic pressure, max
28Mpa
6.
Working medium
liquid (NaCl brine)
7.
Operating temperature (of working medium)
0 С
8.
Dimensions:
a) diameter, max.
b) length, max.

76mm
970mm
9.
Weight, max.
18kg
10.
Length of logging cable
(1500-3000)m
11.
Supply voltage (AC 50Hz)
110-240 V
12.
Power consumption, max.
60W
13.
Service life, min
8 years
14.
Profile registration time, max.
70 sec
15.
The time of profile registration is max.
70 sec
Registration, processing and 3-D visualization of measurement results are fulfilled with an IBM-compatible PC on the real time scale through the standard PC interface (LPT-, or COM-port). Preliminary processing of results includes intelligent algorithms of screening out interference signals and multiple reflected waves, restoration of missing measurement data, profile smoothing and adjustment based on a priori information from survey measurements. The processing software calculates the principal parameters of profile: area, maximum and minimum radii, profile decentration, factors of profile shape deviation from the perfect one, which makes it possible to assess the level of anisotropy of the washout process. The software provides tools for 2-D and 3-D visualization, comparing profiles of different levels and different washout stages.
Graphic presentation of the well shape obtained as a result of measurements made by means of the "Scanner-2000" echolocation complex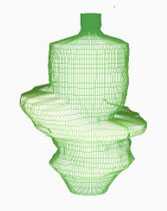 The instruments have been successfully operated: since 1998 - at the MOZYRSOL brine recovery site, since 2002 - at the SAYANSKKHIMPLAST mine, since 2006 - at BelTransGaz gas depots, since 2007 - at the SODA brine recovery site; since 2000, they have been successfully used at oil storage facilities, and for cases of waste storage washout; in China - for cases of technologically complicated column conditions, including measurements taken through the column.
With hope for fruitful cooperation,
Yours faithfully,
Director General of NPO Poisk LLC Marat Divlet-Kildeev